Kashi is one of the best religious places in India. Every year thousands of people come here to visit the temples. There are over 3000 temples in Kashi(Varanasi). Most of the Kashi temples worship different forms of Shiva and Parvati(wife of Shiva).Unfortunately, many Kashi temples were destroyed by Turkish ruler, Mohammed Ghori in the 12th century. Most of them are now in ruins. But still some remain and some were also reconstructed later.The most famous temples of Kashi are Kashi Viswanath, Kashi Annapurna, Kashi Kotwal Baba etc.. We are here to talk about Kashi Annapurna Temple in detail, which is one of most temples in Kashi.
Check out Kashi Annapurna , Community on Utsav!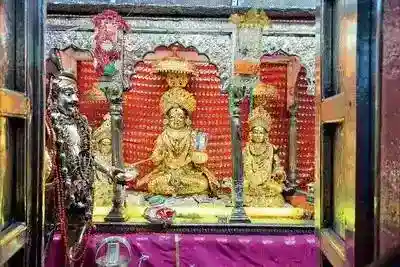 All about Kashi Annapurna Temple:
Kashi Annapurna Temple, Varanasi is one of the most visited places in Kashi,Uttar Pradesh. Here Devi Annapurna,who is a form of Goddess Parvati(wife of Shiva) is worshipped.
Annapurna Devi Mandir popularly called Annapurna Mata Mandir or Annapurna is one of the most famous temples(Mandir) in the holy city of Kashi(Varanasi,Uttar Pradesh). This temple is highly important in Hindu Religion and is dedicated to the goddess Annapurna.Annapurna Devi Mandir is situated in Visheshwarganj, Varanasi. It is situated 15 meters North-West of the most famous temple in Varanasi," Kashi Vishwanath Temple",350 meters West of Manikarnika Ghat(also called Rani Bai Ghat). "Annapurna Puja" is also celebrated in many parts of India. Besides Kashi, there is also a very famous temple of Annapurna in the city of Indore, located in Madhya Pradesh. The most popular festival celebrated for worshipping Annapurna Devi is "Annakut", where more than 60 dishes are prepared, mostly made of rice, and are distributed among the people.
History as in The Legend:
Kashi Annapurna Temple was constructed by Maratha Ruler Peshwa Baji Rao I in the year 1729. Due to the widespread belief that Lord Shiva and Parvati's souls would always remain united for all eternity, it is frequently referred to as the "soulmate of the Kashi Vishwanath Temple."
There are two well-known theories on how this temple came to be in Hindu mythology.
The principles are outlined below.
However, certain sadhus in Kashi also support the initial origin of the Kashi Annapurna Temple. The majority of Hindus concur with the second belief.
According to the first theory, the goddess Parvati forced her husband Shiva to close all three of his eyes so that he could manage his rage because everyone knows that rage only leads to disaster. However, this created a serious issue.
The entire universe was filled with darkness..In her Gauri form, Parvati also lost her light skin. To regain her "Gauri"form, she pleaded with Shiva for assistance. In Kashi, Shiva requested that she give Anna (food). She assumed the appearance of Annapurna, the goddess of food, complete with a golden pot and ladle, and distributed food in Varanasi. As a result, it is said that Parvati visits this location every day to distribute food to everyone. After Kali Puja, also known as "Diwali" or "Annakut," that fortunate day is observed.
According to the second belief, Shiva once said that everything is illusion, even food (illusion). The goddess of food, Parvati, became enraged and made a decision to show how important food is by making all of the food on earth vanish. Large-scale famines as a result resulted in many people starving to death. Shiva eventually acknowledged the value of food to Parvati and begged for food at her door. He sincerely expressed regret for his error. In response to his kind act, Parvati prepared a restaurant in Varanasi for her followers. She then presented meals to Shiva with her own hands.
Art and Architecture:
Nagara-style architecture is used in the construction of Annapurna Devi Mandir. There are two statues of the goddess Annapurna Devi in the temple's sanctum, one made of gold and the other of brass. The gold idol can only be seen once a year on Annakut Day, although darshan of the brass idol is possible every day. Every year, following Diwali, the Annakut festival is observed. Coins are given out to all the worshippers on this day. Whoever worships this currency is said to receive Annapurna Mata's blessings for a fruitful and wealthy life. The sanctum of this temple features a sizable porch with pillars that depicts Maa Annapurna.
Maa Annapurna Story:
An aspect of Devi Adishakti, Annapurna, Annapurneshwari, Annada, or Annapoorna is referred to be the Hindu Goddess of food and nourishment. The Goddess Annapurna is recognised as a popular divinity since Hinduism highly values worship and food offerings. Annada Mangal, a narrative poem in Bengali by Bharatchandra Ray, beautifully describes her as a manifestation of the Goddess Parvati, the husband of Shiva. Mata Annapurna is known by various names among her devotees throughout the world. The Annapurna Shatanama Stotram contains 108 names, while the Annapurna Sahasranama contains 1 thousand Annapurna names.
There are a few temples that are dedicated to her, with the "Annapurna Devi Mandir" in Kashi being the most well-known. The day "Akshaya Tritiya" is seen to be extremely fortunate for purchasing gold jewellery because it is thought to be the Goddess Annapurna's birthdate. In India, Akshaya Tritiya is often observed in late April or early May.
It is believed that Mount Annapurna in the Himalayas is named after her as the goddess is believed to be one of the daughters of Himavat, the king of the mountains. The Western world names her the "Hindu God of Cooking," considering her association with food items.
The name Annapurna, which means "the provider of sustenance and nourishment," is borrowed from Sanskrit. The Greek words for "meal" or "grains" are anna () and "full, complete, and perfect". Because the goddess is thought to be one of Himavat, the ruler of the mountains, or one of his daughters, Mount Annapurna in the Himalayas is thought to have been given her name. She is known as the "Hindu God of Cooking" in the West due to her connection to food.
Annapurna is also known as:
Vishalakshi is a Sanskrit word meaning "woman with big eyes."
In Sanskrit, "Viswasakti" means "global power."
Sanskrit for "mother of the world" is "Vishvamata."
The Sanskrit name Stihetukvaradn means "she who bestows blessings for the benefit of the world."
"Bhuvaneswari", the goddess of the earth (Sanskrit: ).
Atomic goddess Renu.
Annad, which means "food donor" in Sanskrit.
History of Food Worship:
Worshiping the goddess of food is important in this day and age, when farmers in India are struggling and frequently taking their own lives and where two-thirds of the world suffers from some type of starvation. Worshiping the Goddess of Food is more appropriate for a country where agriculture is the main industry and is mostly supported by rainfall. India was an agrarian nation that relied heavily on food even in antiquity. Since food is a necessity for both human survival and that of even the tiniest member of this planet, devotion of Goddess Annapurna is very important. Kashi Vishwanath Temple is close to Annapurna Temple.
On the occasion of Annakuta, which is celebrated after Diwali, coins of various denominations are distributed among devotees and it is believed that whoever will worship these coins they will get prosperity and all the desires fulfilled.You may enjoy the pilgrim crowd there. There was a golden idol in the temple. India was rich in gold and silver in the past, thus most religious and opulent items received a gold construction. Foreign invaders' religious intolerance caused the country to lose all of its wealth and allow temples to be stolen. Most people hold the view that Goddess Annapurna prevents starvation, famine, and hunger in Varanasi City.
Ideal Time to Visit:
Wintertime is the ideal season to visit Varanasi (November to February). Winter is the greatest time to visit the holy city since you can walk around without getting too cold, despite the fact that it can get rather chilly.
Attractions near the Temple:
Besides Annapurna Devi Mandir, there are many other places to visit in Kashi as well. They are as follows:
1. Kashi Vishwanath Temple, Kotwal Baba Temple
2. Dashashwamedh Ghat
3. Sankat Mochan Hanuman Temple
4. Assi Ghat
5. Vishwanath Gali
6. Banaras Hindu University
7. Nepali Temple
8. Durga Temple
9. Kedar Ghat
10. Batuk Bhairava Mandir
11. Ramnagar Fort
12. Bharat Mata Mandir
13. Alamgir Mosque
14. Tibetan Temple
15. Manikarnika Ghat
16. Bharat Kala Bhavan Museum….and the list goes on..
TRAVEL BY FLIGHT
The nearest airport is Varanasi Airport or Lal Bahadur Shastri Airport which is located at a distance of 18 km from Kashi.
TRAVEL BY TRAIN
The closest railway station is Varanasi City Station which is located at a distance of 6 km from here. Regular trains from Kolkata, Howrah, Sealdah are available from here.There are taxis, auto rickshaws that take you to the temple. It is well connected with all major Indian Cities like Patna, Delhi etc.
TRAVEL BY BUS
State-owned and commercial buses take you easily from Kolkata/Howrah to Varanasi. From there you need to take Auto rickshaws, taxis to reach Kashi Annapurna Temple.
Best Places to Stay:
There are many budget friendly and affordable hotels near the Temple. You can book online or approach hotels locally.
Temple Timings and Other Details:
Kashi Annapurna Temple is open throughout the year.
The Annapurna Temple is open from 5:00 am until 11:30 am in the morning and from 7:00 pm until 11:00 pm at night.
AARTI TIME:
Morning: 4:00-5:00 a.m.
Evening: 5:30-6:30 p.m.
The temple remains closed from 12 to 2 pm for bhog and in the evening from 5:30-6:30 p.m. for Sandhya Aarti.
ADDRESS OF KASHI ANNAPURNA TEMPLE:
Annapurna Math Mandir D 9, 1, Vishwanath Galli, Godowlia, Varanasi, Uttar Pradesh 221001.
Annapurna temple is located close to Kashi Vishwanath Temple in Vishwanath Gali at Dashashwamedh Ghat.
Check out the Google Map Location Here.