Vivaha Panchami is an auspicious Hindu festival celebrated to commemorate the sacred marriage of Lord Ram (Prince of Ayodhya) and Sita (Princess of Janakpur).
In the Hindu calendar, it is celebrated on the 5th day of Shukla Paksha (bright fortnight) in the month of Margasila. The festival is usually held from late November to early December according to the Georgian calendar. This festival is celebrated mainly in North India, Mithiranchal, and Nepal.
According to the Hindu epic Ramayana, King Janak of Mithila (Janakpur) invites many kings from different kingdoms to organize a 'Swayambel' ceremony, from which Janak's daughter Sita chooses a groom. I had to. However, for her to marry Princess Sita, it was a condition that she lift and tie Shivadanusha. Thousands of kings and princes tried but were unable to move him. Then Ram, the prince of Ayodhya, lifted and stretched this huge and heavy Shiva Dhanush (bow). The audience gasped in applause, flowers fell from the heavens, and Princess Sita married Lord Ram. In commemoration of the marriage of Lord Ram and Devi Her Sita, the people celebrated Vivaha Her Panchami with fervor.
Celebration of Vivaha Panchami
Vivaha Panchami is widely known for its fervor and zeal in Ayodhya, the birthplace of Lord Ram. Here, many centuries-old temples are now decorated with lights and flowers. An epic wedding passes through many temples during the day and ends with the wedding ceremony of the idols Ram and Sita. Many Hindus from all over India come to witness this wonderful event. Devotional songs and songs from the epic Ramayana are also sung by devotees. Elaborate rituals are held in temples that house the idols, Ram and Sita. Many residents of Mithila come to Ayodhya in traditional costumes to perform on stage. This momentous event was named Ram Vivah Utsav. Besides the temple celebrations, various cultural shows and theatrical performances organized by different communities are also popular on this occasion. You can also see Ram Leela, which symbolizes the life of Lord Ram and Sita. In these shows, both male and female characters in the Ramayana are played by male actors. With many tourists and locals performing various rituals and enjoying the celebrations, Ayodhya is incredibly bright and lively. Vivaha Panchami represents the traditional era of great relationship and connection between India and Nepal. The Vivaha Panchami festival is also very popular in Janakpur, a city rich in history and spirituality in Nepal.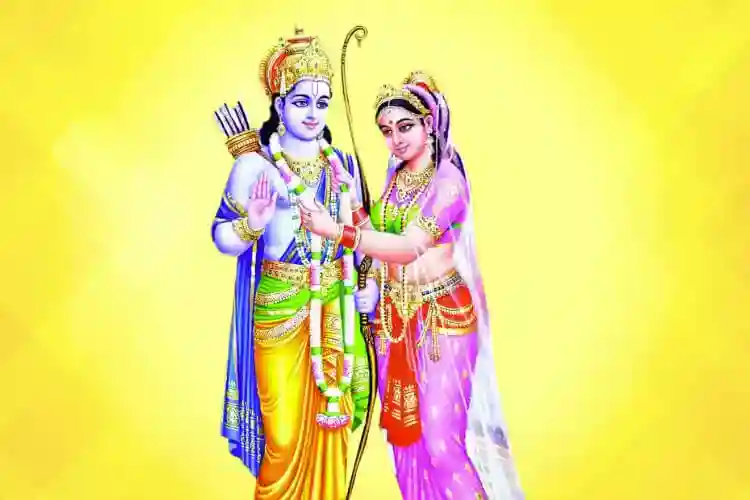 The Vivaha Panchami festival can be a great opportunity to visit Janakpur and observe its culture and traditional values. Vivahapanchami celebrations take place at Janaki Shrine for seven days. At this time, the whole temple was decorated and upgraded as a 'mandap'. A mandap can be a temporarily decorated place where Hindu wedding ceremonies take place. Idols of Lord Ram and Lord Sita are moved to Mandap and decorated with decorations and traditional wedding attire like the bride and groom. The sacred marriage of Lord Ram and Devi Sita is celebrated with great enthusiasm, after which these idols are worshiped with devotional songs and songs. As part of the sacred festival, many temples serve delicious traditional food to everyone. undeniably it's busy with tourists and Hindus. Janakpur relates to life in this festival.
Marriage Story of Mother Sita and Lord Rama:
According to folk legend, when King Janak was farming, he obtained a girl from the earth and named this girl Sita. King Janak took the goddess Sita as his son and raised her mother Sita in her affection. When Mother Sita lifts Shiva's bow. Only Parshuram had the ability to lift this bow. Seeing this, King Janak understood that this was no ordinary girl and at the same time decided to marry her daughter Sita the one who raised this bow from Shiva. When Goddess Sita qualified for her marriage, King Janak announced that he would keep Swayanvara for her and marry her daughter Sita to the one who raised this bow and offered it to Prachuncha. Lord Rama and Lakshmana also attended Swayanvar with Maharishi Vashishta. After Swayanvar began, no one was able to lift this bow, so King Janak was very disappointed and said that there was no one suitable for my daughter. I ordered the bow strings to be provided. Following his command, Lord Ram began to provide strings to Lord Shiva and the bow broke. King Janak Sita then married Sri Ram. So Mother Sita and Lord Rama got married. Even today, they are considered the ideal couple. 
Do these measures on the day of Vivah Panchami :
1. Worship Lord Rama and Sita on the day of Vivah Panchami. Burn incense and incense sticks in front of Mother Sita and Lord Shriram. Chant `Om Namo Narayan' 21 times daily.
2. Worship Sun God and Venus God on this day. Worship Maa Durga. Offer Durva to Mother Sita and Lord Rama. Donations should also be made on this day. Take responsibility for the marriage of a poor person and get it done.
3. Recite to a child the incidents from Ramayana. Take responsibility for the marriage of a poor person and get it done. Donate food to women. Take blessings of your mother.
4. Wear yellow clothes on this day. After this, chant mantras or couplets with tulsi or sandalwood garland.