Govardhan Puja, often called Annakut or Annakoot (essentially 'mountain of food'), is even a Hindu festival in which Krishna's devotees worship Govardhan's hill and prepare Krishna with a wide range of vegetarian foods as their representation. This festival honors the Bhagavata Purana who raised the Govardhan Hill by Krishna to provide refuge for the inhabitants of Vrindavan from the heavy rains. This event is interpreted as a symbol of how God protects all devotees who find refuge only in him. and reaffirms their faith in hiding from God. The event is watched by the majority of Hindus in India and abroad. It is one of the most important festivals for Vaishnava, especially Pushtimag of Vallabha, Gaudiya of Chaitanya, his Sampradaya, and Swaminarayan Sampradaya. The celebration of Annakoot takes place on the first lunar day of the Kartik month Shukra Paksha (bright fortnight), the day after Diwali, the Hindu festival of lights.
Etymology:
Many of Krishna's divine and heroic deeds are associated with his Braj, where he spent the best years of his childhood, along with his boyfriend and his friends. Krishna raises Mount Govardhan (Hill of Govardhan), a small hill in the center of Braj, in one of the most important events mentioned in the Bhagavata Purana. According to the Bhagavata Purana, the cowherds living in the forest near Govardhan worshiped Indra, the god of rain and storms during the autumn season. Krishna disapproved of this as he wanted the locals to worship only Purna his Parmatma and no other gods, stones, idols, etc. Indra was offended by this suggestion. Although Shri Krishna was younger than most people in the city, his vast knowledge and power were highly regarded by all. Indra was furious when he saw people's loyalty shift away from him to Krishna. In response to his selfish anger, Indra decided to unleash thunderstorms and torrential rains on the city. Sri Krishna lifted Govardhan mountain with his pinky finger to give all the inhabitants and livestock of the city shelter from the storm. 
When the inhabitants of Gokul escaped the storm after seven or eight days of rain, Indra conceded defeat and ended the storm. Therefore, on this day, in honor of Mount Govardhan, a 'huge offering of food and delicacies to the mountain' called 'Giriyajina' was prepared. Krishna then took the form of a mountain and received gifts from the locals. After his seven days of deluge, Indra finally gave up and submitted to Krishna's sovereignty. Here is one of the most famous stories of the Bhagavata Purana. Since then, Govardhan has grown into an endless destination for Krishna devotees in Braj. One of Braj's oldest traditions is that on the day of Anakut, devotees roam the hills and feed the mountains. The 11-mile route, which forms a ring road, is dotted with shrines where worshipers place flowers and other offerings. The family represents the Giriraj Govardhan (mountain) from the cow mountain, adding miniature cow figures and grass branches to represent trees and other vegetation. Fifty-six food items (Chappan bhog) are traditionally made and distributed the night before Annakut. This ritual is performed by members of the cowherd caste, who lead their cows and bulls around Parliament Hill while being chased by village families. After offering food to Capitol Hill, they eat sacred food. Celebrations often attract large crowds, including the Chaut Brahmins of Mathura.
Customs:
His fourth day of Diwali is dedicated to the Annakht ceremony. As a result, there are many similarities between the practices associated with Anakut and his five days of Diwali. Annakht Day may even be a day to thank Krishna for his kindness, but his first three days of Diwali are days of prayer to sanctify money and bring more wealth into the lives of devotees.
Govardhan Puja:
One of the most important rituals performed at Annakut is the Govardhan Puja. Govardhan Puja may even be part of the all-day Annakoot celebration, but the curious fact is that some literature considers the two festivals to be interchangeable. There are various ways to perform Govardhan Puja. In a variation of the ritual, Lord Krishna is made of horizontally lying garbage. After the building is completed, it is decorated with candles, sheikh (a substance commonly used to make broom shells) and earth lamps (Deepak or Diya). After worship, the bhakta or worshiper feeds the main structure and the woman observes fasting. Lord Govardhan is also an object of prayer. According to the Bhagavata Purana, the central image of the Govardhan Puja is Krishna lifting Govardhan Hill with his finger to protect those who have taken refuge from Indra's wrath.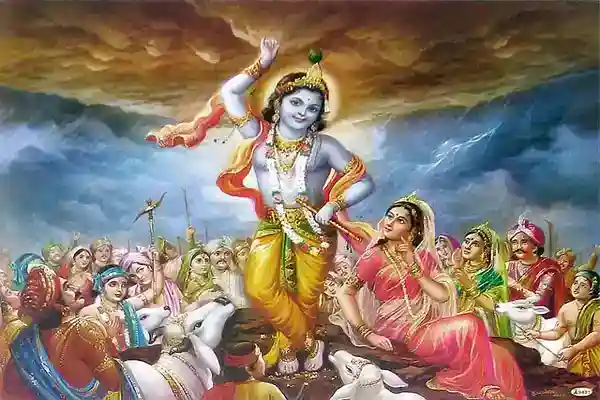 Annakut Festival:
Various vegetarian dishes are usually placed in rows or tiers before the gods. Sweets are usually brought closest to the gods. Lower levels arrange other meals such as 'dal', vegetables, lentils, and delicious fried foods. In the center is a pile of roasted grains representing Mount Govardhan. Sadhus established Annakht at Swaminarayan Shikarbad Mandir in the morning and at noon.
Thaal:
At every Mandir of Swaminarayan, Sadhus and devotees sing 'Thaal'. This is a kirtan or devotional hymn composed by Swaminarayan poet Paramahanthas. These kirtans describe the food and pray to the gods to accept the food. The song lasts about an hour and is followed by a loud aarti. After this, devotees perform puja, surround the deities, and offer food. In some mandirs, as long as Annakoot's offerings are in front of the gods, aarti is performed several times during his day. In the evening, devotees ingest part of the annakht as prasad. This is sacred food offered to the gods and received as divine mercy, dressed in elegant clothes and ornaments.
Celebrations:
Hindus all through the sector actively have fun at Annakut as part of Diwali and, maximum frequently, pair the Annakut birthday party with the Govardhan Puja accomplished on the fourth day of Diwali celebrations. Hindus additionally view Annakut as a time to transmit spiritual and cultural values to children, make an apology to God, and specific devotion closer to God. Annakut is widely known for diyas (small oil lamps) and rangoli, ornamental artwork on the floor crafted from colored rice, colored sand, and/or flower petals. Many awesome meal objects, every now and then numbering withinside the masses or thousands, are presented to deities throughout Annakut. For example, 250 kilograms of meals had been presented to Lord Krishna at the ISKCON temple in Mysore, India in 2009. Although Annakut is most customarily related to Lord Krishna, different deities also are focal points.At the Shree Mahalakshmi Mandir in Mumbai, India, fifty-six candies and meal objects are presented to Mataji after which disbursed as Prasad to greater than 500 devotees. The Annakut pageant is likewise celebrated yearly at about 3,850 BAPS Mandirs and facilities all through the sector in a day-length event. During the pageant, Swaminarayan devotees put together and serve diverse vegetarian deities to Hindu deities consisting of Swaminarayan and Krishna. The Annakut Festival at BAPS Mandirs is frequently the most important pageant of the year. Visitors study Hindu spirituality, recite New Year`s prayers, devour prasad and holy meals, and take part in different prayer activities. A follower of his BAPS Swaminarayan Mandir in Leicester, England, holds the yearly Anakut pageant, which he describes as an area in which nonsecular aspirants can confirm their appreciation for the position God performs of their lives. Explaining. These gatherings also are a possibility to bolster a feel of the community. At the BAPS Swaminarayan Mandir in Neasden, England in 2004, 1247 vegetarian dishes had been accrued and presented to the gods on the Annakht pageant held on the BAPS Swaminarayan Mandir in Neasden, England in 2000. On October 27, 2019 (Diwali), a Guinness World Record turned into a set for the biggest Annakoot ever held at his BAPS Attradra Mandir in Gujarat. 3500+ vegetarian dishes are served.