An ancient Hindu festival called Chhath originated in the Indian subcontinent, specifically in the Indian states of Bihar, Uttar Pradesh, West Bengal, and Jharkhand as well as the Nepalese provinces of Madhesh and Lumbini. During Chhath puja, prayers are offered to the solar deity Surya to express gratitude and thanks for bestowing the blessings of life on earth as well as to ask for the fulfillment of specific wishes. The festival's patron goddess is Chhathi Maiya, who is also Lord Surya's sister and Devi Prakriti's sixth manifestation. On the sixth day of the lunar month of Kartika (October–November), according to the Hindu calendar Vikram Samvat, it is observed six days after Deepavali. Four days are dedicated to the rituals. They include taking a holy bath, going without food and water (vrata), standing in water, and making prasad and arghya gifts to the setting and rising sun. Some worshippers march in prostration as they make their way to the river's banks.
Significance of Chhath:
The celebration of Chhath Puja is exclusively linked to the veneration of the mighty Sun God. Chhath puja is inextricably linked with nature worship for the welfare of humanity as the only festival that has survived since the Vedic era. This festival honors and expresses gratitude to Lord Surya, who stands for the earth's unchanging source of life and nutrition.
History as in the Legend:
Chhath Puja is said to have its origins in the early Vedic era when sages would conduct the puja using Rigvedic mantras while fasting for days at a time. Karna, the son of Lord Surya and the ruler of Anga Desh, or modern-day Bhagalpur in Bihar, is thought to have participated in Chhath Puja. Another tale states that the Puja was also conducted by the Pandavas and Draupadi to overcome difficulties in their lives and restore their exiled realm. Chhath Puja is regarded as Mahaparva by the residents of Bihar and other nearby regions.The Chhath celebration, which is referenced in the Brahma Vaivarta Purana, is when people worship the Chhathi Maiya. The Gahadavala dynasty is credited with founding the Chhath Puja in Varanasi, a sacred city. Both of the great Indian epics make reference to Chhath. When Rama and Sita returned to Ayodhya in the Ramayana, people celebrated Diwali, and on its sixth day, Ramrajya (literally, the Kingdom of Rama) was formed. Sita did Surya Shashthi/Chhath Puja while Rama observed a fast on this day. Lava and Kush were thus given to her as their sons, which was a blessing.
In contrast, once they managed to escape from Lakshagriha in the Mahabharata, Kunti performed Chhath Puja. It is also thought that Karna, Surya and Kunti's son, was conceived following Kunti's Chhath Puja. Additionally, it is stated that Draupadi performed the Puja for the Pandavas to win the Kurukshetra War.
Details of Chhath Puja:
Four days are spent on Chhath Puja, a traditional celebration. Kartik Shukla Saptami marks its conclusion, and Kartik Shukla Chaturthi marks its beginning.
Naha Khaay (Day 1):
Chhath Puja officially begins on this day. The house, its surrounds, and the routes leading to the Ghat must all be meticulously cleaned following the holy bath required of the Parvaitin (translation. devotees; from Sanskrit parv, meaning "occasion" or "festival"). On a regular basis, the Parvaitin prepares Sattvik Lauka Bhaat (Bottle Gourd and Bengal Gram Lentil preparation with Arva Rice Bhaat). In the afternoon, this preparation is given to the deity as Bhog. During Chhath Puja, this starts the Parv and serves as the Parvaitin's final meal. To shield the mind from thoughts of retaliation, the food is then consumed.
Rahsia-Roti/Kharna/Lohanda (Day 2):
On the second day of Chhath Puja, which is also referred to as Lohanda or Rasiaav-Roti, is Kharna. The devotees are not permitted to consume any water on this day. They have gur ki kheer, also known as Rasiaav, a jaggery-based dessert, along with roti in the evening.
Sanjhka Aragh (Day 3):
On this day, the prasad (offerings) are prepared at home. Typically, these include a bamboo basket adorned with fruits, Thekua, and rice laddus. The devotee goes with the rest of the family to a riverbank, pond, or other large body of water on the night before this day to make the Arghya offerings to the setting sun. The event may resemble a carnival in many respects. Numerous participants and bystanders are all eager to assist and accept the blessings of the worshipper in addition to the devotees and their friends and families.
During arghya, Chhathi Maiya is worshipped with prasad and Gangajal water is offered to the Sun God. Chhath hymns and the Vrat katha are sung at night after the Sun God is worshipped.
Bhorka Aragh (Day 4):
The devotees are required to travel to the riverside before daybreak on the final day of Chhath puja in order to present an arghya to the rising sun. After that, Chhatti Maiya is contacted in order to request his help in ensuring the child's safety as well as the harmony and happiness of the entire family. Devotees break their fast after worship by drinking water and eating a small amount of prasad. It's referred to as paran or parana.
Rituals and traditions of Chhath Puja:
The majority of worshipers are women, who are known as Parvati (from the Sanskrit word parv, which means "occasion" or "festival"). However, since Chhath is a celebration that is celebrated by both sexes, many men also participate in it. The parvaitin offer prayers for their family's health and for their kids' future success. When a family member begins doing Chhath Puja, they may be expected to continue doing so every year and pass the tradition on to the succeeding generations. 
Only if a family member passes away that year is the festivity skipped. If the ritual is stopped in any given year, it ends permanently and cannot be started again. This is optional in some communities. Thekua, Khajuria, Tikri, Kasar, and fruits (mostly sugar canes, sweet limes, coconuts, bananas, and various seasonal fruits) are presented as prasad in little bamboo baskets. The meal is entirely vegetarian and is prepared without salt, onions, or garlic. Maintaining food integrity is prioritized.
Delicacies of Chhath Puja:
1. Thekua
For Chhath Puja, Thekua is the most well-liked prasad. Wheat flour, dried coconut, melted sugar, and ghee are the ingredients used to make this dry sweet. On the second day of Chhath Puja, most of thekua is cooked before it is served to the Sun God.
2. Kaddu Bhaat:
Most of Chhath's population enjoys this fantastic sabzi. It is prepared with Kaddu/Lauki (Bottle Gourd) and fried in ghee with Himalayan salt or sendha namak. In order to break the fast, this delectable sabzi is best served with fried poori or rice.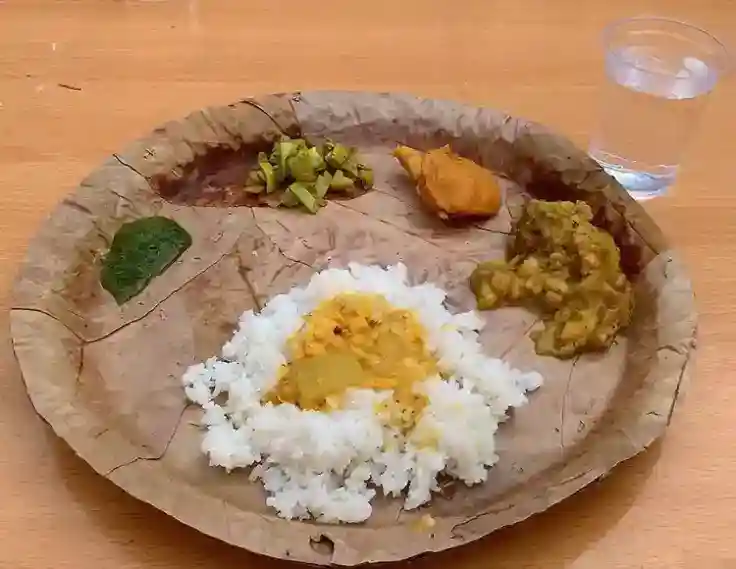 3. Hara Chana:
Another delectable food included in the Chhath-specific thali is hara chana (also known as green chana). The following day, green chana is fried in ghee with some green chilies and cumin seeds after being soaked in water overnight.
4. Rasiyaw (Rice Kheer) with Puri/Roti (Chapati)
Rasiyaw is essentially rice kheer, except instead of sugar, it contains jaggery (or gur). It is made almost just like conventional kheer with milk, water, and rice. The Chhath puja feast is concluded with this dessert. Prior to serving for consumption, it is only offered to Surya Devta. The dish goes great with Dal Puri, Puri, or Roti.
5. Kesar ka laddu:
Another form of dessert is produced besides thekua and rice kheer. It is ready in a matter of minutes and is quite simple to make. Ghee, fennel, powdered jaggery, and rice are the ingredients. One such prasad made during Chhath Puja on the day of Sandhya Arghya is kasar ke laddu.
Celebration of Chhath Puja in India:
Chhath is celebrated in many states in India, especially by the Hindustani community. These four days are celebrated with great vim and zest, especially by women and children. People keep fasts, take dips in rivers, pray to the Sun god, prepare delicacies, distribute sweets, light candles and burst crackers to celebrate this festival. Although almost all states celebrate chhath, the celebration is most popular in the states of Bihar, West Bengal, and Uttar Pradesh due to more number of Hindustanis.