Ganesh Chaturthi, also known as Vinayaka Chaturthi or Vinayaka Chaviti, is a Hindu festival honouring the journey of Lord Ganesh and his mother Goddess Parvati/Gauri from Kailash Parvat to Earth. During the celebration, Shri Bal Gangadhar Tilak, also known as Lokmanya Tilak, installed clay statues of Lord Ganesha both publicly and privately in Pune in the year 1893 atop lavish pandals (temporary stages). 
Observations include the recitation of Hindu scriptures such as prayers and vrata as well as Vedic songs (fasting). Sweets like modaka, which are thought to be a favourite of Lord Ganesh, are among the offerings and prasad from the daily prayers that are given out from the pandal to the community.
The festival comes to an end 10 days after it began when the idol is immersed in a local body of water, such as a river or sea, during a public parade that includes music and collective chanting. This is known as visarjan. Approximately 150,000 monuments are submerged each year in Mumbai alone. Ganesh is said to return to Mount Kailash to join Parvati and Shiva once the clay statue crumbles. The festival honours Lord Ganesh as the God of New Beginnings, the Remover of Obstacles, and the god of knowledge and intelligence. It is celebrated all around India, but is notably popular in places like Maharashtra and Goa.Ganesh Chaturthi is also celebrated in Nepal, as well as by the Hindu diaspora in various countries, including Fiji, Mauritius, South Africa, Australia, New Zealand, Canada, Singapore, Malaysia, Trinidad and Tobago, Guyana, Suriname, other Caribbean countries, United States, and Europe. Ganesh Chaturthi occurs annually between August 22 and September 20, according to the Gregorian calendar.
This year the date of Ganesh Chaturthi starts from 31st August. As the festival is very near, it is very important to know all about the festival in detail. We will discuss the top 5 favourite foods of Ganesha which are the most popular dishes devoured by the people during this festival.
The top 5 delicacies loved by Lord Ganesha:
Ganesh Chaturthi, a 10-day celebration, is about to begin, and the celebratory zeal is pervasive. The joyful feast is made more enjoyable by Lord Ganesha's fondness for sweet treats. Lord Ganesha was also known as "Modapriya" in Hindu mythology because of his intense affection for modaks, which were said to be his favourite dish. In fact, it's thought that serving 21 Modaks as a bhog will satisfy both Lord Ganesha and Lord Shiva simultaneously. Therefore, over these ten days, worshippers prepare a variety of delicious treats in an effort to obtain Bappa's blessings. Bappa's favourite sweet dishes, nevertheless, were also thought to include a few other sweet treats. Let's examine some Ganesh Chaturthi recipes and food items. We will list out the top 5 dishes among many favourite dishes. These food items are given as bhogs for Lord Ganesha during Ganesh Chaturthi. The other favourites down the list will also be mentioned.
1. Modak
One of Ganesha's most favoured foods is modak, or steamed dumpling. Ganesh Chaturthi celebrations feature many sweets, but among all Ganesh Chaturthi sweets, the most important is Modak. Almost all of his statues show him holding a bowl of Modaks or chowing down on them with his trunk. Such is Ganesha's devotion to modaks. The recipe that must be made in every home on Ganesha Chaturthi is certainly modaks. They are rice flour cakes with sweet or savoury filling that have been expertly steamed, and they make the ideal gift for Ganesha on his birthday.Lord Ganesha loves modaks so much that he also goes by the name "Modapriya." His liking of the sweet dumplings is mentioned in a number of stories. Devotees prepare various varieties of Modak and present them as prasad. They are made of rice flour, coconut, and jaggery and are perfectly steamed.
Historical significance:
Parvati ordered her sons to share a modak that was given to her by a guest at Kailash Mountain among themselves. Ganesha and Kartik didn't want to do that, so Parvati put them to the test: whoever completes three full rotations of the earth the fastest gets to keep the delectable sweet dish.
Kartik set out to circumnavigate the globe, but Ganesha only made three laps around his parents, showing how important they were to him. Parvati, moved by his deed, handed him the modak, and ever since, the sweet has been connected to Ganesha. On Ganesh Chaturthi, a variety of modaks, including fried, steaming, and chocolate-covered varieties, are still served to Ganesha's statues.
How it is prepared:
Freshly grated coconut and jaggery make up the modak's delicious inside, and rice or wheat flour mixed with khava or maida flour is used to make the modak's soft exterior. Modak comes in two flavours: fried and steamed. The steamed variety, referred to as ukdiche modak, is frequently served hot with ghee.
Best places that prepare Modak:
1. Modakam
Address: Kamana CHS, SK Bole Marg, near Siddhivinayak Temple, Prabhadevi
2. New Karachi Sweets
Address: Shop 6, Ajanta Building, 3rd Road, Khar West
3. Panshikar
5/B, Ranade Rd, Bhawani Sankar, Dadar, Mumbai, Maharashtra 400028
4. MM Mithaiwala
Address: Vasanti Bhavan, Opposite Malad Station, Malad West
2. Motichoor Ladoo
Ganesha's prodigious belly is evidence that he loves anything sweet. Without a laddoo on one of his four hands, you wouldn't locate a single idol or artwork of his. Yes, it is obvious that he adores motichoor laddoos, an aromatic Indian confection formed with small boondi that has been soaked with saffron.
Ganesha enjoys eating various kinds of laddoos and pedhas, of course, but motichoor laddoos stand out as his favourite due to their brilliant colour and flavour. It makes sense that motichoor ladoos are a staple of Ganesha's bhog.
Historical Significance:
Ladoos are thought to have served as an antiseptic for Susruta, an Indian doctor who treated people who were having surgery. He created the ladoos we now affectionately refer to as "motichoor ladoo" in the 4th century BC using a mixture of foods with nutritious benefits such as sesame seeds, jaggery, and peanuts. As this dish had medical importance, it was believed to be liked by Lord Ganesha as well as Lord Shiva, since then it has been offered to Ganesha.
How it is prepared:
Motichoor ladoos are gram flour, sugar, and spice-based ladoos that are soft, delicious, and melt in your tongue. They are delicious balls made from gram flour, Rava, or any other dried fruit that has been blended with ghee and sugar.The gram flour batter is fried to create tiny balls or boondi, mixed with sugar syrup, nuts, or seeds, and then formed into neat round balls. A common dessert from North Indian cuisine, motichoor ladoo is commonly prepared for festivals or other special occasions.
Best places that serve Motichoor Ladoos:
1. Vinay Sweets
Address: Shop No.9, 50/86 Jitekarwadi, Dr. Babasaheb Jayjar Marg, Girgaon, Mumbai - 400004, Opp. Vinay Health Home
2. MM Mithaiwala
Address: Vasanti Bhavan, Opposite Malad Station, Malad West
3. Aishwarya Product
Address: Abhijit Shet, H_401, Gokul Galaxy, Thakur Complex, Opp Palkhi Bungalow, Kandivali East, mumbai - 400101
4. Saroj Sweets
Address: Near Chembur Railway Station
5. Tewari Bros
Address: Near Juhu Beach, Mumbai and Opera House
3. Puffed Rice
Ganesha is just as kind and compassionate to the impoverished as he is to the wealthy. Ganesha is given laddoos, which are sweetened with jaggery and made from readily accessible and inexpensive puffed rice.Puffed rice or Pori, as it is called in Tamil, is often offered to Ganesha during the Ganesha Chaturthi Pooja.When Kubera called Ganesha over for a lunch, Ganesha accepted immediately due to his ravenous appetite. Lord Ganesha wanted to eat more because he wasn't satisfied with the food. It was rumoured that Lord Shiva had recommended sacrificing some puffed rice to him. It was assumed that as soon as it happened, his hunger was satisfied. This is the rationale for the preparation and offering of Murmura jaggery ladoo to Lord Ganesha.  
Historical Significance: 
Offering puffed rice has a legendary origin as well. The keeper of wealth in heaven, Kubera, once invited Ganesha to a feast. Shiva forewarned Kubera that Ganesha is a voracious eater, but Kubera wanted to brag about his wealth and riches to Shiva and Ganesha. Ganesha appeared at the feast, devoured every dish in a flash, and then demanded more. Kubera went to Shiva for assistance after feeling helpless. Shiva advised him to give Ganesha a handful of puffed rice out of love and devotion rather than bragging to the Divine. Once his appetite was satisfied, Ganesha blessed Kubera. Puffed rice is therefore traditionally offered to Ganesha on Ganesha Chaturthi in exchange for his blessings.
How it is prepared:
Puffed rice and melted jaggery are used to make crispy ladoos. Despite not being particularly nutrient-dense, puffed rice is easy on the stomach and low in calories. One of the nation's most popular sweet snacks is murmura ladoo, which is made of puffed rice and is highly satisfying.
Best places preparing Puffed Rice ladoos:
1.Saroj Sweets
Address: Near Chembur Railway Station
2. Brijwasi Sweets
Address: Multiple Sweets all over Mumbai
3. Siddhi Sweets and Snacks
Address: Near Andheri, East Mumbai
4. New Karachi Sweets
Address: Shop 6, Ajanta Building, Mumbai
4. Pedas
A milk dessert called peda is offered during Ganesha Pooja. They are a wonderful and simple Ganesha Chaturthi dish consisting of milk, sugar, flour, cardamom, and almonds.It can be ready in just 6 minutes. Often variations exist where khoya, pistachio, cashews are also used to make Peda.
Historical Significance:
Peda originated in Mathura, Uttar Pradesh.About the Peda of Mathura, there is no reliable history known. However, there is a common myth regarding this in the public. According to legend, Lord Krishna's mother Yashoda once meant to cook milk but forgot. When the milk finally reached a boil after some time, it was already fairly thick. Yashoda then prepared pedas by adding sugar to it and gave it to Krishna. This confection created by the mother was highly popular with Kanha. The custom of giving Peda to Lord Krishna then began in Mathura. Totaram Halwai is the oldest store in Mathura. He started working on the Peda in 1832. His family are still operating this company today in its fourth generation.Later Pedas were sent to other parts of India. It was believed that Ganesha, being a sweet lover, took an instant liking to pedas. Since then pedas are offered during Ganesh Chaturthi.
How it is prepared:
Peda, a deliciously sweet dessert resembling fudge that is frequently seen in Indian stores, is made traditionally using khoya (dried milk solids), sugar, almonds, and flavorful spices. But it's surprisingly simple to create this common dessert at home!
Best places that serve Pedas:
1. Brijwasi Sweets
Address: Multiple Outlets all over Mumbai
2. Shree Gangour Sweets
Address: Near Juhu Beach
3. Shabbir's Takkawal Sweets
Address: Mohammad Ali Road, Mumbai
4. MM Mithawala
Address: Vasanti Bhavan, Opposite Malad Station
5. Kheer or Payasam:
Kheer is a fundamental component of practically every Indian festival because it is thought to be God's favourite dish. Several milk-based Kheer recipes, including Basundi, Pala Thalikalu, and Pala Undrallu to name a few, are prepared during Vinayak Chaturthi.
Another sweet dish made for Ganesha in Maharashtra is payasam or kheer. Ganesha loves this celebratory sweet dish, which is created with milk, rice, sugar, coconut, and cardamom. On Ganesha Chaturthi 2020, you might try making the delicious meal payasam to present to the deity of fresh beginnings. Additionally, you can experiment with making variations of this recipe with fruits, pulses, carrots, pumpkin, etc.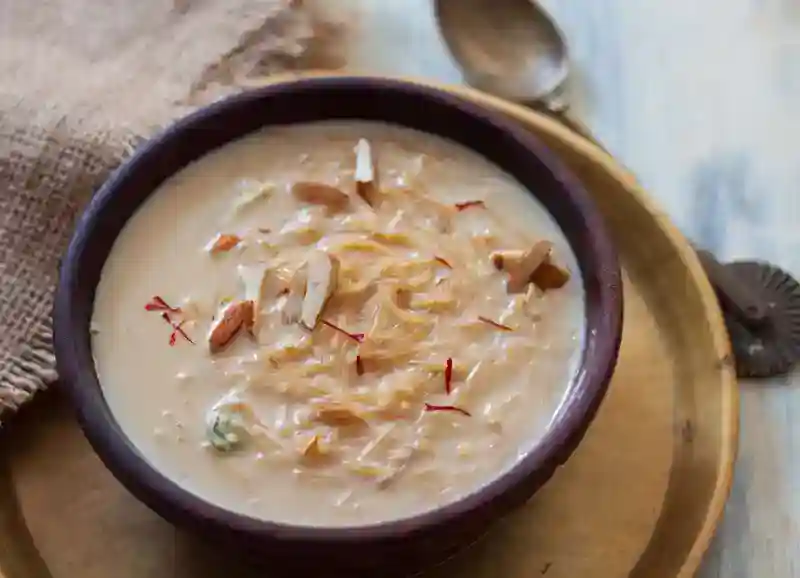 Payasam, Payesh, Phirni, and Fereni are just a few of the many names for kheer that are used across the Indian subcontinent. Do you know that this word is a modified version of the Sanskrit words "kshirika" and "ksheer," which denote dishes with milk and respectively. It is an Indian dish made with milk that is delectable, creamy, and rich. It is regarded as a precursor to European milk rice and is frequently offered at festivals, weddings, and even in temples.
Historical significance:
Kheer, according to some historians, is among the earliest foods known to humankind and was presumably created by the ancient Ayurvedic tradition. The Ramyana and Mahabharata epics from 400 BC include the earliest written descriptions of this dish.Kheer was believed to be eaten by the deities if they start any auspicious ceremony or to get energy. Lord Ganesha, being an avid food lover, took an instant liking to kheer.
How it is prepared:
Rice is cooked in sweet milk that has been enhanced with ghee, an Indian butter, and flavorful spices like cardamom and occasionally saffron, according to the recipe for kheer. Cashews, almonds, and pistachios are occasionally used to adorn it for special events.
Best places preparing Kheer:
1. Shree Gangour Sweets
Address: Near Juhu Beach
2. MM Mithawala
Address: Vasanti Bhavan, opposite Malad Station
3. Panishikhar
5/B, Ranade Rd, Bhawani Sankar, Dadar, Mumbai, Maharashtra 400028
4. Saroj Sweets
Address:Near Chembur Railway Station
These are the top 5 favourite foods of Lord Ganesha. Other than these, there are many other delicacies. We will mention a few extra. They are:
1. Bananas
2. Pooran Pooli
3. Durva Grass
4. Jhunka
5. Medu Vada
To know more about Ganesha and Ganesh Chaturthi, do the following:
Written by Debaleena Ghatak